After Action Report
The world premiere in Minneapolis and the Duluth debut are behind us. Time to take a breath, relax, assess and learn lessons.
---
Spent a day relaxing with Mary, Jerry and Gulin traveling up and down Hwy 61 and Northshore Drive. Plenty of breathing. A little bit of beer and a chat with Nick as he poured dangerously good beers for the crowd and the tour. Later at the hotel it rained for a bit, then gave up a double rainbow over Duluth and Superior.  We talked all the while about many things, but beer and Crafted to Last were a recurring theme.  Ted Marti is right when he says, "That's what makes beer, beer!"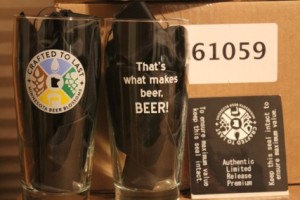 Driving back from Duluth I began to mull it over in my head. Gulin was engrossed by the grant proposal she's writing and we had some tunes that I like, so the environment was conducive to mental assessment of recent events.  At first it was pelting rain, fog and road spray and all I could think about was driving the car, but that faded. Slow and spotty at first, but I needed sunglasses soon enough.  Traffic was not insignificant, but it provided room for contemplation.
In almost every way the release of Crafted to Last at the world premiere in Minneapolis and the Duluth debut were successful. We got a lot of attention. At least 3 times during our visit to Duluth and the Northshore, we were told by people we met that they knew about our film and wished they could have seen it. I assured them that there will be more opportunities to see my documentary in the near future. I'm already at work on making it happen in a location near you very soon. Most of the feed back from viewers has been positive, and the mild criticisms have been constructive, rather than dismissive.
I owe a lot to Andrew Schmitt and MN Beer Activists for helping to promote and getting the word out that Crafted to Last is a film worthy of the Minnesota beer community. Big thanks also to Dustin Brau, Lynn Richason, Dan Schwarz, Joe Pond, Broc Krekelberg, Amy Johnson, Jamie Robinson and Jeff Hahn because they not only came to the Premiere at the Parkway, but were also very helpful in promoting the film. Most of them are featured in the movie, too.  A huge part of the audience at the Parkway on July 19 were not from the beer community. They were personal friends and supporters of the Campaign for Music.
If there is one thing I regret in retrospect it is that I did not do a better job connecting with the beer-lovers in Minnesota with regard to the opening of the film. I should have made a greater effort to get the featured breweries and their fans interested in seeing the documentary. I assumed that they would be aware and excited to see the only film about the Minnesota craft beer movement and so did not spend enough time and energy whipping up support among the community that is at the heart of the film. I will not make that mistake again.
One of the better results from the release screenings has been the connection with Marissa and Lee from Northland Beer.  We met while I was videoing beer pours in the tap room at Fitger's Brewhouse and Grille. They were two of the few that managed to make it to the Duluth Debut and were very supportive in promoting the event at Zinema 2.