Crafted to Last Film Tour 2015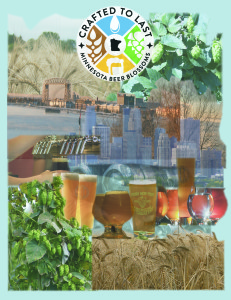 Schedule for May and June 2015:
May 2 – Lucid Brewing Company – Minnetonka -TBA
May 14 – Lift Bridge Brewing Company – Stillwater –
6:30 PM
May 15 – Kinney Creek Brewing Company – Rochester –
6:00 PM
May 16 – Northgate Brewing Company (Art A Whirl weekend) – Minneapolis – 1:00 PM
June 3 – Day Block Brewing (Pilot Batch Wednesday) – Minneapolis – 6:00 PM
June 20 – Bent Paddle Brewing Company – Duluth – 6:30 PM
June 29 – West Medicine Lake Community Club – Plymouth – TBA
There is no charge, but some venues may require tickets. Show times subject to change. Check with the venues for up-to-date information and requirements. Film runs 85 minutes. Door prizes. Merchandise. Local beer. Home brewed film.
Even at this early stage, the CTL Film Tour mirrors the state-wide geographic scope of the documentary itself.  It is also pretty cool that screenings will coincide with the BFD Award Ceremony at Lucid (May 2), Art-A-Whirl at Northgate (May 16) and Pilot Batch Wednesday at Day Block (June 3). All of these events reinforce themes from the film. Home brewing, experimental brewing, community engagement and connection to other artists are critical threads running through the story of Minnesota brewers as told in the documentary.
There are still a few  dates available in June and plenty more this Summer and Fall. Contact us at cddfproductions@gmail.com if you'd like to arrange a screening. I especially encourage those so inclined to think about working with me to create an event – or even some beer(s) – around the film and the showing.  I'm willing to show the film in pretty much any venue one can imagine and it would do my old heart a lot of good if someone were to suggest a venue I've not yet imagined. Seriously. Get in touch.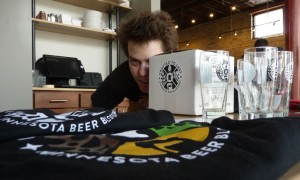 Rumors that Paul Johnston and Dan Banks are cooking up something extra special for the Day Block Pilot Batch Wednesday on June 3 have been confirmed by a source that most likely knows something is in the works. I've challenged them to come up with a set of Pilot Batch beers that are as Minnesotan as possible – whatever that might mean. I can't wait to find out what they got brewing.
It is satisfying to finally work with Paul on a project that will come to fruition. I had to cut Paul out of Crafted to Last.  This time things will be different. Don't miss it.