A Few Canadian Breweries
In June of this year we traveled from Toronto, Ontario to Vancouver, British Columbia and spent time in the Canadian Rockies in Alberta. Along the way I sampled as many locally brewed beers as possible, as well as packaged beer from other parts of the country.
It is certain that the 13 breweries' beer that I sampled are not representative of the entire spectrum of brews available in a country as large and diverse as Canada. Even so, I found distinct differences from the Minnesota beer of which I willingly partake when at home in Minneapolis, MN. The range of flavors and styles was narrower and lighter beers were plentiful while darker ales, porters and stouts were less so. Lagers, pilsners and pale ales, whether of the India variety or some catchy locally referenced type, were the favored offerings, More than a few saisons, wits and farmhouse beers, too. Very few big, high alcohol, bombs, although low 7% range brews were commonly available. Not so many Imperial styles as I have gotten used to in Minnesota.

We managed to visit 3 working breweries. The stand out was Mill Street Brewery in the Distillery District of Toronto. One reason this excellent establishment stood apart was the range of the house beers available on tap.  All were flavorful with malty depths and balanced hops. The coffee stout was wonderful. Thick malt-driven bitterness complemented the java perfectly. I had previously sampled their fine wit from a bottle at another restaurant and was sad that it was unavailable at the brew pub. The IPA was good. Definitely not American, West Coast style. It was subdued and aromatic.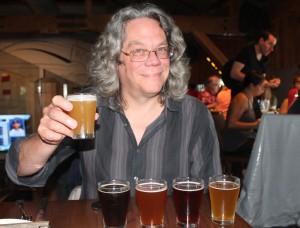 Amsterdam Brewing Company in Toronto offers some good beers, too. The orange summer white and the seasonal Fugue Saison were highlights. They were out of the stouts when we visited, but Downtown Brown was pretty good.
The Jasper Brewing Company was the third and last brewery we visited. I had a rye specialty beer because they had no stouts, porters, or even browns in the rotation. All lighter beers and I did not feel like drinking a flight.
My favorite was Mill City. They had the widest range of styles and every one was well-done. Amsterdam had some bright spots, but Jasper Brewing was another matter. Better that you go to the Downstream and drink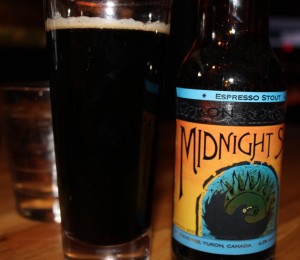 a Midnight Sun from Yukon Brewing Co. with the bison short ribs. We tried to go to Steam Whistle Brewery, but it was closed for a private event. Their pilsner was widely available in Toronto and the VIA train stocked it on the way to Jasper. Solid rendition of the style and very popular.
I was disappointed that we could not visit Big Rock Brewery because we did not go to Calgary and had only a few hours in Vancouver. I drank a number of their beers during the trip and all of them were good. The Traditional Ale was malty, fresh and nutty. The Honey Brown Lager and Grasshopper Wheat were well-done, too. Sweet with fruit flavors, but well-balanced and light on the hops. I almost bought Steel Cut Oatmeal Raisin Stout, but inexplicably put it back on the shelf. I recommend their beer right along with Mill City and Midnight Sun.
These may not be representative of Canadian Beer, but they do represent very good beer brewed in Canada. I'm happy that none of the beers I sampled during this spontaneous beer tour is available in my local beer stores. I steered clear of beers, no matter how tasty, that I was familiar with – for example brews by Unibroue – because I wanted to try new beers from local sources.